October Newsletter 2015
October Newsletter | 2015
STAGES NEWS:
Information, Resources & More!
Autism Parents: How Do You Rate on Self-Care?
By Leslie Stebbins, M.Ed. M.L.I.S.
As parents of a children with ASD we often are so focused on our children's needs we shortchange our own, and we tend to underestimate the effect this can have on everyone around us. Skimping on our own self-care can make us irritable, exhausted, and unhappy. And if our health and emotional well-being is compromised this is likely to have an impact on how well we are able to care for our children. Read More ...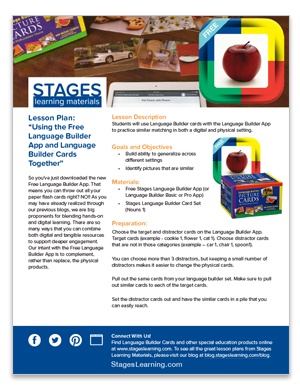 Using the Free Language Builder App and Language Builder Cards Together
By Angela Nelson, J.D., Ed.M.
We are big proponents for blending hands-on and digital learning. There are so many ways that you can combine both digital and tangible resources to support deeper engagement. This month's lesson plan does just that! Students will use Language Builder cards with the Language Builder App to practice similar matching in both a digital and physical setting. Read More ...
New at Stages: WhisperPhone Element
The WhisperPhone® is an acoustical headset that helps children and adults focus and hear the individual sounds of words more clearly as they learn to read, spell and process language aloud. It is ideal for helping young learners develop their reading and spelling abilities and for developing new language skills
Starting at just $4.99, the WhisperPhone is available as a single unit, in classroom packs of 12, and multi-packs of 48 and 144.
Learn More About WhisperPhone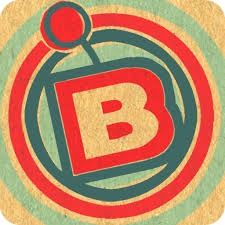 Bebot is a musical instrument that anyone can play. Instead of a keyboard, it has an easy-to-use touch control system. And it's all built into a friendly animated robot, who performs your music while you play.
Designed for both
iPhone and iPad
Price $1.99
Download
Home Videos Can Reveal Secrets of Autism
The Wall Street Journal, September 28, 2015. By Ann Lukits.
Analyzing home videos could help to distinguish toddlers with temporary autistic symptoms from those who are likely to develop autism, suggests a study published online in Early Human Development. Read More ...
How Robots Could Improve Social Skills In Kids With Autism
Forbes. September 25, 2015. By Emily Mullin.
Children with autism often have problems with motor control, eye-gaze attention and emotional facial expressions. At early ages, such deficits can lead to other social challenges, such as delayed development of social cognition. To improve these important social skills, researchers at the University of Denver are investigating whether robots can help children with autism have more meaningful human interactions. Read More ...