May newsletter | 2016
May 2016 Newsletter
STAGES NEWS: Information, Resources & More!
Autism Goes to Hollywood: Our Favorite Documentaries, Movies and TV Shows Depicting Characters with Autism
And...action! As there is growing awareness about autism, the media is also increasingly portraying characters with autism and those who are on the spectrum. How autism is portrayed in entertainment can have a significant impact on how our society understands people with autism. While some representations can be stereotypical and misleading, others can be more complex and realistic, showing the diversity and multidimensional humanity of people who are on the spectrum. Read More ...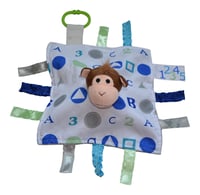 Review: Baby Jack Blankets
Naptime can be a challenging time of day. Sometimes just having the right tools to comfort your child can go a long way with your baby's happiness as well as your own! As your child's sense of touch begins to grow, you may notice a curiosity or preference for certain kinds of textures. Baby Jack Blankets from Baby Jack & co. are truly unique in that they provide multiple textures to help soothe your child.
One side is smooth like satin while the other has a soft and furry feel to it. Some come with an attached plush animal if your child likes the softer, cushier textures and all come with a plastic link that's great for teething (and clipping to a stroller!). The tags around the outside are sewn shut for safety. There are lots of fun patterns and themes to choose from, making it a good learning tool as an added bonus. This truly has everything you could want from a good baby blanket – safe, comforting, educational and entertaining!
The Baby Jack Blankets can be a great gift for any baby, but we also recommend it as a good therapy toy for any children with special needs and sensory sensitivity.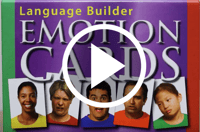 New! Stages Learning Unboxing Video: Language Builder Emotion Cards
Watch the unboxing of the newest addition to the popular Language Builder Series!! This 80-Card set helps students identify and discuss feelings and emotions. The set features a range of actors from 1 to 70 years old, and from a variety of ethnic and cultural backgrounds. Half the images are taken against a plain background, showing only the upper body and face. The remaining 40 cards portray people in realistic emotion-provoking situations and activities taken in natural settings and contexts. The represented scenarios invite discussion about a range of emotions, why the people may feel that way, and possible appropriate and inappropriate responses to these feelings.
Autism in the News:
Researchers have launched the world's largest study on autism and genes. You can participate, too.
Washington Post, April 21.
Scientists funded by the Simons Foundation Research Initiative on Thursday announced the launch of an online research initiative that aims to gather DNA and other information from 50,000 people with autism and their family members. Read More ...
For parents of autistic kids, 22nd birthday often arrives with dread.
Boston Globe, April 13.
A child's birthday is supposed to be a happy occasion. But for parents of children with autism, one birthday — the 22nd — is often a source of dread. That's the day publicly funded special education programs in Massachusetts and most states come to an end, and with them, so many other things. Read More ...