July Newsletter | 2015
STAGES NEWS: Information, Resources & More!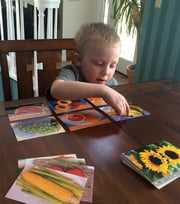 Effective Treatment for Autism: It's Never Too Early to Start
By Leslie Stebbins, M.Ed. M.L.I.S.
While there is no "cure" for autism, treatment can greatly reduce symptoms for many children and help them make meaningful progress as well as promote independence and improve quality of life. Intensive Behavioral Therapy has the most substantial research base of all treatment strategies. Experts encourage parents to focus on this type of treatment as soon as possible, while exploring other possibilities. Read More ...
"Receptive Labeling" Lesson Plan
By Jenna Wharff, Ed.M.
By touching or pointing to the appropriate card, students show that they recognize the word and can identify the corresponding picture. This lesson practices receptive language, picture identification, photo discrimination and fine motor skills. Read More ...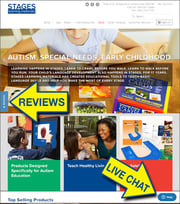 New Features on the Stages Learning Website
Be sure to stop by the Stages website and check out our new live chat feature. We are here to help you understand which products best suit your child or student, and to help you best utilize the products you already purchased.
While you're there, use our new review tool to share product information that will help other parents and professionals. Simply visit any product page and select the "Write A Review" button to leave a product review, or use the blue Reviews tab on the left side of any page to leave a site review. We'd love to hear your comments!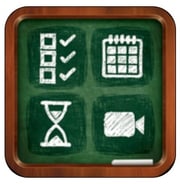 First Then Visual Schedule is a user-friendly mobile application designed for caregivers to provide positive behavior support through the use of "visual schedules." First Then was designed for individuals with communication needs, developmental delays, autism spectrum disorders or anyone who would benefit from a structured environment. Schedules can be created to show daily events or steps need to complete a specific activity.
Designed for both
iPhone and iPad

Download

Price $14.99
Autism Costs Could Skyrocket, Experts Warn
CBS News, July 30, 2015. By Ashley Welch.
For the first time, health economists have projected the current and future costs of caring for people with autism spectrum disorder (ASD) in the United States. The prognosis: already astronomical costs will continue to rise unless things change. Read More ...